Geoff Kew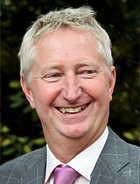 Geoff is the director in charge of our Corporate and Commercial departments. He was admitted as a solicitor on 1st November 1984 and has been practicing in the Reading area since 1979.
Geoff specialises in Company and Partnership law together with Commercial Property.
Geoff has acted in the acquisition and disposal of small, medium and large companies and partnerships and associated business. His work has included foreign company acquisition, professional partnership sales and purchases, joint ventures, terms & conditions, service contracts, share agreements and employment related issues. He has also acted in the sale and acquisitions of large charities, and has experience dealing with the extra complications that can arise from acquiring a business limited by guarantee.
Geoff has also represented a number of large-scale charities with regard to business acquisitions and mergers.
Geoff also deals with shareholder disputes and has conducted a great number of cases leading to a resolution of company disputes without the need for court proceedings.
Geoff undertakes:
Commercial property including Offices, Restaurants, Cafes, Bars, Fitness centres, and shops.
Charity Property acquisitions and sales including day care centres, nurseries, educational establishments
Church based charity property work.
Company and Partnership disputes
Shareholder disputes
Company sales and acquisitions
General Business advice
Geoff acts for a number of professional firms and companies in meeting their legal and business needs, including:
I.T. Companies
Charities
Recruitment Agencies
Accountants
Insolvency firms
Health Centres
Veterinary Practices
Dentists
Surveyors
Manufacturing and Distribution Companies
Telecommunication Companies
Travel Companies
Property Companies
Restaurants, Cafes, Food outlets.
Email: g.kew@hewetts.co.uk
Phone: 0118 955 9604