Expert HR Advice and Employment Law for Employers – including disciplinary, grievances, sickness absence, employment tribunals, discrimination, flexible working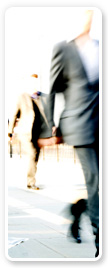 As an established law firm with expertise in employment law, we regularly advise employers either in relation to a specific, isolated issue or on an on-going basis through which we develop a greater understanding of your business needs and priorities. We act for a wide range of organisations including charities, educational institutions, GP practices, sole-traders, SMEs, partnerships, and large corporates. For those aware of the vagaries of employment law and who are concerned about managing the costs of legal advice we also offer a Retainer Scheme.
For Further Information Please Call
Roy Magara on 0118 955 9607
We regularly advise on all areas of employment law, including:
Disciplinary and Grievance Procedures;
Unfair Dismissal and Wrongful Dismissal;
Redundancy Consultation and Procedures;
Business Mergers and Sales ("TUPE");
Changing Terms and Conditions;
Long term sickness absence, Ill-Health Dismissals;
Whistle Blowing/Protected Disclosures;
Harassment and victimisation;
Without prejudice/Confidential Discussions;
Parental Rights (maternity leave, adoption leave, parental leave, rights relating to surrogacy);
Flexible Working;
Restrictive Covenants (protecting your business);
Worker status – the differences between "employees" and "workers";
Volunteers;
Discrimination Claims including Disability, Sex, Race, Age, Pregnancy, Sexuality, Religion and Belief.
We are highly experienced in defending and bringing claims in the Employment Tribunal, Employment Appeals Tribunal and higher Courts. We regularly advise on mediating and resolving employment disputes through negotiation, confidential conversations and settlement agreements.
We want to work with you to prevent future claims by providing practical advice and properly drafted:
Contracts of Employment (permanent, temporary, part time, fixed term, zero hours),
Directors Service Agreements,
Non-Executive Agreements,
Consultancy Agreements (for self-employed individuals)
Settlement Agreements (formerly known as Compromise Agreements),
Notices of Termination of Employment,
Disciplinary and Grievance Procedures,
Staff Handbook and general business Policies
Correspondence to employees.
We can also provide bespoke training at your place of work (subject to geographical location) on any aspect of employment law. The training is fully interactive and audience appropriate. For further information, please see our HR and Employment Law Training page or contact Roy Magara on 0118 955 9607.